[metaslider id=533]
The summer before third grade, I was shipped off to Hendersonville, North Carolina, alongside two of my best friends and their 7-year-old younger sisters to attend sleep-away camp for the first time. We entered with expectations exceeding little more than bug bites, sunscreen, various pool activities, and new friendships.
Little did we know that our lives would be changed forever. Despite the fact that my friend's who-knowshow-dirty younger sister returned to her mother only to tell her, "You forgot to pack me soap!" attending sleepawaycamp that year, as young as we were, taught usincredibly valuable life lessons. "The girls in my cabin that I met when Iwas 8 years old will without a doubt be the girls that serve as the bridesmaids at my wedding," said Julia Sherman, a junior at Marjory Stoneman Douglas High School, who will be returning to Camp Harlem in Pennsylvania this summer to serve as a counselor-in-training. "My camp friends have helped to shape me into who I am today." Though three years have passed since spending my summers at Camp Blue Star in Hendersonville, I still can't manage to put into words exactly what it was about camp that captivated me to come back every summer for seven straight years. But somewhere along the way between living in a wooden cabin filled with thirteen other girls without any technology, swarms of nipping mosquitoes, and no parents for hundreds of miles, I found my comfort zone and embraced it.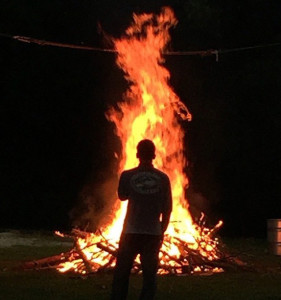 "Sleep-away camp separated me from the values of my household and allowed me to explore my own values," said Douglas senior Matt Deitsch, who attended Camp Coleman in Georgia for eight years. "It prepared me to take on the real world independently and gave me a strong friend group all around the country." Sleep-away camp provides children with experiences and lessons that their parents could never otherwise give them. It was when I was at camp, living hundreds of miles away from anything that I had ever known, that I began to explore boundaries, manage my own freedom, learn empathy for others, discover where my interests truly lied, and even tap into my dreams for the future. While a parent's choice on whether or not to send their 8-year-old child hundreds of miles away for a month is something that many parents seem to question endlessly, worrying that allowing their child such prolonged time away from home would be without value and unwise, I can guarantee that the choice to provide a child with the opportunity to attend sleep-away is one of the greatest gifts ever.
"Without having gone to sleep-away camp, I would never have experienced things like tubing, mud sliding, and hiking — but the greatest thing I experienced that changed my life forever was living with who would later become the most important people in my life," said Douglas junior Hunter Luboff, who went to Chestnut Lake Camp in Pennsylvania for six years. "I learned how to work together and live with other people."
Sleep-away camp impels children to try things that they never would at home. I voluntarily hiked up and down a 1,000-foot mountain three times in one month. I learned to build a fire and cook meals over it. I made glitter plaques and led color war chants and tried rock climbing and riflery and white-water rafting. I became an adventurous eater. I grew up, and I found myself among people whose friendships I will maintain for the rest of my life. I showered in spider-infested bathrooms. I drank "bug-juice" religiously.Most important, though, I established myself in a community of people that had existed and stretched long before me — the community of Camp Blue Star, with its generations of color war murals and catchy songs and cabins with endless amounts of names scratched into the wooden rafters; the snaking, foot-worn gravel paths and clanking of metal kitchen cutlery, banging and cheering on dining hall tables, and its magical place in my heart.