When you meet Jessica Schmidt, you are mesmerized by her warmth, her larger than life smile with a personality to match, and her determination. Her parents describe her as "pure love." She adores her friends, her active social life, and her job at ScentsAbility. You would never believe that at six weeks old she was not expected to ever walk or talk. Then you meet her mother Bonnie and you immediately understand why Jessica defied those odds. While Jessica is the apple of her mother's eye, the apple does not fall far from the tree. Bonnie and her daughter Jessica have an indomitable spirit that drives them to defy any obstacle placed in their way. It is this exact spirit that is the inspiration for ScentsAbility, an organization that supports individuals with intellectual and developmental disabilities in their quest to learn job skills and become independent. "It is invaluable that our children live a purposeful life where they feel productive and a part of their community," Bonnie said. ScentsAbility gives them that purpose.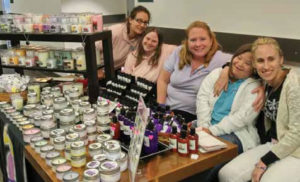 When Jessica graduated high school at age 22, there were very few job options that matched her personality, ability to socialize, and eagerness to engage. Since Bonnie and her husband John could not find a career path that fit perfectly to Jessica's needs, they chose to lay the foundation themselves. The idea of creating a family business made perfect sense. Infusing Jessica's love for candle making made even greater sense. In 2008 ScentsAbility became incorporated. "I'll never forget the look on Jessica's face the day when John built a foldable peddlers cart with our logo on it," Bonnie said. "That's my store," Jessica said. A profound and unforgettable moment in their lives and the start of independence for Jessica as they began their venture into the candle business.
After four years of participating in a variety of green markets, craft shows, and annual participation in The Coral Springs Festival of Arts, ScentsAbility received a micro-enterprise grant in 2012 and became a 501(c)3, expanding its business plan to embrace other individuals with intellectual and developmental disabilities. ScentsAbility developed a curriculum and a training program for young adults who can attend any of the monthly events or work in the store in Coral Springs. Team members proudly wear their uniforms and shirts that say "I Make Scents" or "I Am Able." While their mission is to teach their team how to punch in/out for their shift, how to use a cash register, stock shelves, alphabetize, count money, and how to use a computer to ring up a sale, team members are passionate about selling a variety of steadily growing products and participating in the candle making process itself. The ScentsAbility store is at 11480 W. Sample Road, Coral Springs. For more information, visit www.scentsability.org.