by Philip Fishman
Who you are, the person who you want to be, and maybe the kind of day you will experience, may very well be determined by what you reach for – inside your closet.
Clothes, shoes, and assorted accessories of every size, shape, and color are somewhere, either neatly put aside in a drawer or perhaps hanging from a long bar stretching across the closet's width.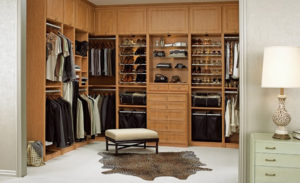 Your spacious walk in closet, in addition to a home for clothing and outerwear, may house boxes, tennis rackets, brooms, or some item you just want to hide—it could be anything that doesn't fit or look good inside a room.
Many of us don't seek experts who design closets or home stagers that tell you how to organize your space. But today, closet making is a big business as more of us view our closets as integral parts of our home, as well as a major influence in creating a certain lifestyle.
Ron Annechiarico, owner of Accent Closets, has witnessed a significant change in consumer tastes regarding closet construction and design.
"The ventilated wire closet has given way to a more modern design and a fancier appearance," Annechiarico said.
Most closets are either the reach-in or walk-in variety. What has become important is what customers want inside, and how to utilize existing space. The choices can be endless- there's metal pulls and knobs, sliding or revolving tie and belt racks, rods and valets, angle supports, and even pullout ironing boards.
Annechiarico said that additional storage for personal items has become an essential perquisite, especially where square footage is at a premium. South Florida homes are not built with basements, which necessitates the need for extra closet space.
"We see our clients wanting more drawers and shelves for shoes and hampers to store clothes and items that cannot fit in the main rooms," he said.
Also, extravagance has no boundaries when it comes to closet construction.
"We've had orders for closet chandeliers, glass shelving, granite tops, and floor to ceiling lighting. Some now consider their closets as real extra rooms and not just extensions of their bedrooms," he said. "Closet door construction is also important. Acrylic and aluminum frames may be desired or raised or reset panels or the owner may want a simple wood or sliding glass door."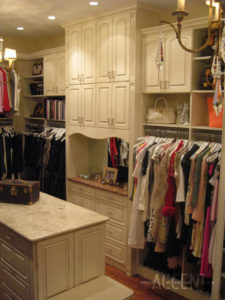 Women's closet needs differ from mens, but not by much. A women needs to store shoes, purses, dresses, pants, blouses, sweaters, lingerie, and even jewelry. Men lean more to suits, shoes, jeans, shirts, ties, and belts. "Knowing what your client wants, and what they are storing is very important to design the perfect closet space," Annechiarico said.
Traditional, modern, walk-in or reach-in, or simply an appendage to existing room furniture, the closets of today play a significant role in residential home design.