New Year's resolutions? Bah, humbug! Hardly anyone keeps them beyond a week or so, anyhow—a month at the most. Why bother? I haven't made a New Year's resolution since … well, I don't think I have ever.
But if starting out the new year on a new foot is your kind of thing, may I suggest that, rather than resolving to quit smoking, quit being so short-tempered with your spouse, go on a diet, or go to the gym regularly, you focus on things you want to accomplish in the new year.
Goals. Not resolutions but goals—that's the ticket.
What goals would you like to set for yourself for the new year? Some of them could still be health- or fitness-oriented, such as losing 15 pounds or eating more green veggies.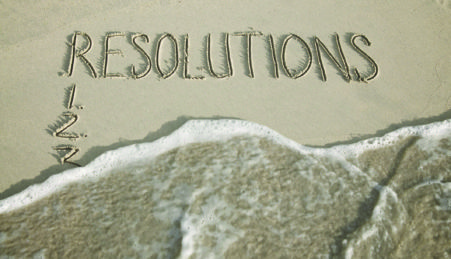 Others might be career-oriented: Start your own business. Go back to school and get that degree (or advanced degree) you never got the first time around, in order to further your career. Learn a new skill that will help you in your work.
Still other goals might be leisure-time-oriented: Find a new hobby. Learn to arrange flowers artfully. Start a vegetable garden. Learn to play bridge. Join a bowling league. Take up water-skiing or snorkeling. Learn to play an instrument. Take singing lessons.
Some might be financial in nature: Take a more active part in managing your investments instead of leaving yourself totally in the hands of your investment advisor. Start saving toward a round-the-world cruise or toward the purchase of a new, larger, nicer home (or a major overhaul and expansion of your current home), with a target of having X amount of money saved by December 31st. Fill in the missing coins or stamps in your collection—and then possibly sell the completed collection for a hefty price. Make extra payments on the principal of your mortgage, setting a certain target date for an early pay-off.
Some might be family oriented: Reconnect with those distant cousins you haven't talked to for two decades. Create a family tree and fill in any blanks for which you now have no information, such as the names, birth dates, and birthplaces of your great-great-grandparents. And, closer to home, mend any rifts or strains that exist in your relationships with your more immediate family members.
It's never too early to start writing your memoirs or autobiography—even if you're only in your 30s, but especially if you're already in your 50s or beyond. That's a good goal for you to work on accomplishing. You can keep adding to it periodically, but start now to get down on your computer your personal history from birth to the present.
Speaking of writing, do you have any stories, songs, poems, plays, or other creative output you wrote and then shoved to the back of a drawer—literally or figuratively? Why don't you make it a goal to resurrect them, work to improve them, and try to get them published, recorded, or produced, as the case may be?
In selecting your goals for this year, ask yourself:
~ What would improve my life?
~ What would add more fun to my life?
~ What projects did I drop in the past, or what goals did I abandon, that I really should get back to?
Yes, "What would add more fun to my life?" Your goals don't have to all be about self-improvement. There's nothing wrong with having goals that lead to fun. "All work and no play makes Jack a dull boy"—or Jill a dull girl. Enjoy life! Have some fun. Have a lot of fun.
Set those goals, whatever they are. But then be sure to follow through and really work toward those goals. Don't abandon them. Goals are good.
No more New Year's resolutions!