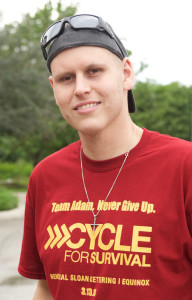 January 20th was officially Adam Fiorello Day in Parkland, Mayor Michael Udine proclaimed. The young Parkland resident, who turned 22 just the day before, is in a fight for his survival. He was diagnosed in December 2013 with alveolar rhabdomyosarcoma, a cancer affecting the soft tissues in the muscles and connective tissue.
The rarity of Adam's disease cannot be overstated. According to his mother, Heidi Fiorello, a registered nurse, "roughly 200 to 300 children per year contract it and it can affect all children, mostly younger between three to nine years old. The subtype of Adam's disease affects 50 to 60 children, but he got it before his 20th birthday."
Adam was first affected in his right ear behind the sinus cavity. His mother describes his ordeal: "He went through 54 weeks of chemotherapy and had hand-neck radiation. At 6-foot-3-inches and 250 pounds, he went down to 175 pounds and couldn't swallow his own saliva and had a feeding tube."
January 20th, says his mother, "was a day to celebrate Adam and his courage and then to acknowledge his pro-activity in helping others and speaking to groups. He will know that there is still hope for a miracle and not to give up."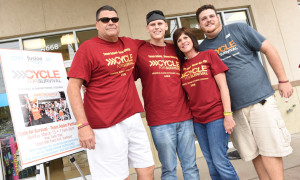 Having visited Adam in the hospital, local sports teams have rallied around him, including Miami FC soccer coach Alessandro Nesta and Chicago Cubs baseball player Anthony Rizzo and other people at the local event. He was introduced at a Miami Heat basketball game and honored with a jersey in his name in February.
"The city of Parkland honored me, and a whole bunch of people showed up to support me," Adam says. "Every day is difficult. I have bad days and good days. A bunch of stuff is affecting me. My motto is to never give up. This is God's plan."
Last July, Adam suffered a mini-stroke and the family had to move again from Parkland to New York City for treatment at Memorial Sloan-Kettering Cancer Center with his family and older brother Nicholas, 24, by his side. The cancer has spread to his brain, and doctors predict he will decline quickly. There are no known survivors. But doctors can be proved wrong with the strength and support of his immediate family and many fans on Facebook supporting Team Adam-Parkland and events to rally behind the cause.
"Cycle for Survival.org" events are scheduled in cities around the U.S. for rare pediatric cancers. One event will take place from 11am to 3pm on March 13th at Pine Trails Amphitheater in Parkland. Adam may possibly speak at the event.