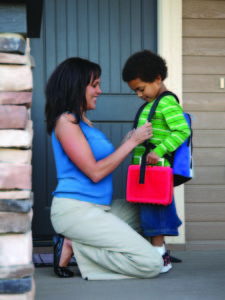 Few children today enter first grade or kindergarten with no prior school experience. The majority have either been enrolled in pre-school or they have attended VPK, the free program that prepares children for kindergarten. These programs help make a child's first day of real school easier. In times past, kindergarten was often a child's first experience with school.
There is an old joke about the Jewish mother who prepares her son for his first day of school, saying, "Now, bubeleh, go to school and make me proud. You're a big boy, bubeleh, and you're going to learn a lot in school. Oooh—here comes the bus. Give me a kiss, bubeleh, and have a wonderful time." As the school bus pulled up to the bus stop that afternoon, the mother waited eagerly to hear about her son's first day in the hallowed halls of education. Giving him a big kiss as he stepped off the bus, the mother said, "So what did you learn on your first day of school, bubeleh?" He replied, "I learned that my name isn't bubeleh. It's Irving."
Funny as that joke is, it does contain a lesson: Make sure your child knows what their real first name is. Although many schools today are lenient about the use of nicknames, there are still some that demand that "Pat" answer to "Patrick" or "Patricia," as the case may be. At the very least, he or she should be aware of what their true first name is. This is even truer if the nickname doesn't derive from the first name, as in the case of kids who are used to answering to "Red" or "Shorty."
Although you may be feeling nervous, wondering if your child will make friends easily, if he or she will be accepted by their peers, and other worries, former elementary school teacher Lenna Buissink urges that you try not to communicate those feelings to your child. Children can sense when their parents are nervous. A child who is facing the first day of school with equanimity can develop stage fright if he or she picks up on the fact that you are nervous about this impending event.
Be sure your child has all the recommended supplies. Don't let them be the only one without a set of crayons, pencils, or whatever else the school requires.
Remind him or her that entering kindergarten is an important step in growing up—that he or she is a big kid now. Since kids take the growing-up process very seriously, capitalize on that and help them to feel proud of being big enough to go to school.
Buissink advises that if the child is nervous, you should honor that feeling. Don't belittle or disrespect the child's feelings by saying, "Don't be nervous," or "Don't be silly. There's nothing to be nervous about." Instead, say, "Okay, what are you nervous about? Let's talk about it." Encourage your child to open up about his or her concerns, and then calmly and positively respond to them.
Even if your child has gone to pre-school or VPK, he or she may be nervous about attending real school. Don't assume a child will be at ease because of prior school experience. Maybe he will…but maybe she won't.
While you don't want to send your child off to school with a teddy bear or security blanket, if there is a small trinket that is meaningful and comforting and will fit in the backpack, let the child bring it to school.
Buissink also advises that you stress how wonderful the teacher is likely to be, and also suggests trying to find something out about the teacher beforehand, then sharing that information with your child. A tidbit like, "Did you know Ms. Jones has a boy your age?" can strike a spark of kindred feeling in the child that can make all the difference between starting school with butterflies in the stomach or with a feeling of confidence and excited anticipation.
by Cynthia MacGregor