It's just past 10am and the residents are hungry. Wildebeests, tapirs, and ostriches gather at flat concrete slabs immediately adjacent to the roadway, to scarf up the feed that the workers have spread out for them. They wander at will throughout their respective areas of the park, uncaged—although the lions remain securely behind a fence. Apparently 10am isn't their feeding time. They stretch out in the sunshine, napping like overgrown housecats.
It is the visitors who are caged. Lion Country Safari, an attraction in Loxahatchee, Palm Beach County, strictly requires visitors to remain in their cars with the doors and windows closed.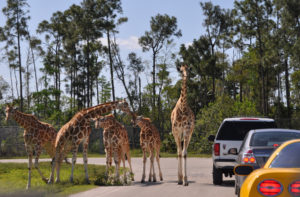 This doesn't deter some of the animals from trying to get up close and personal with the visitors, but it does keep them safely on the other side of the window glass. As we drove through the animal park on a recent morning, we came up behind another car stopped on the roadway. An ostrich was standing immediately adjacent to the car's passenger-side window, rippling its neck up and down, back and forth against the window glass.
Besides the obvious appeal of being able to see the animals wandering uncaged throughout the park, there are practical advantages to the set-up, too. If you've ever tried to walk a small child through a conventional zoo, you know the dangers of his or her wandering away from you, as well as the probability that at some point he'll complain that his legs are tired. Driving through this zoo rather than walking through it is also a boon for people like me with mobility issues.
Lion Country Safari is divided into separate sections, with names such as Serengeti Plains, Kalahari Bushveldt, and Las Pampas. Some of the animals' names are equally exotic: kulan, nyala, greater kudu, and Nile lechwe to name a few. But you'll also encounter familiar "old friends" such as giraffes, zebras, chimps, impalas, and llamas.
When you've finished circling through all the sections of the park, you have the option of going around again, leaving, or—if you're looking for a chance to stretch your legs—there are lots more things to do in an area where you are encouraged to park and exit your car. You can follow the advice of the song from Mary Poppins and "feed the birds." You can ride the carousel. There is a petting zoo. Enjoy the Safari Splash Waterplay Area and the water slide. And that's still not all. Hungry? There's a restaurant and two snack shops. And what would a park-type attraction be without a gift shop? There are also animal shows and talks at scheduled times.
Although pets are not allowed to ride through the park, the park does provide free comfortable kennels for them if you've mistakenly brought your furry family member with you. From June through August, the park offers one-week daycamp sessions. There is a KOA campground. They also host birthday parties and they offer annual passes.
It's a winner of an experience for all ages. For more information, call 561-793-1084 or visit LionCountrySafari.com.