Fourth of July fun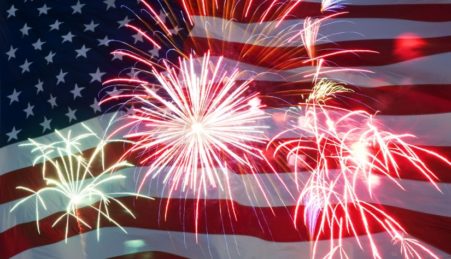 By David Volz
The Fourth of July is a time when people get together to honor the nation, spend time with family and friends and to watch fireworks.
Parkland Mayor Michael Udine said he enjoys the Fourth of July. "It is a great celebration of American Independence and a nice holiday."
Coral Springs Commissioner Larry Vignola said, "We celebrate our independence in on the Fourth of July. Coral Springs will have the best and safest fireworks show. We want people to come to Mullins Park and have a good time and be safe," he said.
Coral Springs will be offering a large family event at Mullins Park from 6to 9pm. During the early evening, people will be able to enjoy some family time at the park. There will be food trucks and an interactive disc jockey. There will be inflatable slides and a bounce house. Civic organizations will offer hamburgers, funnel cakes and other treats. At 9pm there will be a big fireworks display.
"This is an event that families truly enjoy. We get a big crowd. People should bring blankets and chairs. We are hoping for good weather," said Joan Dowling, superintendent of the Coral Springs recreation department.
Pompano Beach will celebrate the Fourth of July with live music, featuring Chain Reaction, a Journey Tribute Band. The party starts at 6pm followed by a live DJ and fireworks at 9pm. It will take place at the Pompano Beach Fishing Pier and Public Beach.
Tamarac will host a Fourth July All American Celebration at the Tamarac Sports Complex at 9901 Northwest 77th Street. There will live music by the Free Radicals. There will be food trucks on site and a kid's area with face painting, inflatable rides, interactive games and arts and crafts. The fun starts at 6 pm with fireworks at 9pm.
Boca Raton will hold a Fabulous Fourth Celebration at 1000 Northwest Spanish River Boulevard at the Spanish River Athletic Facility at Countess deHoernle Park. It will start at 6:30pm with family activities, a live band at 7pm and fireworks at 9 pm.
The City of Parkland does not have a fireworks display or family event on the Fourth of July. Udine encourages residents to attend one of the nearby city's fireworks displays.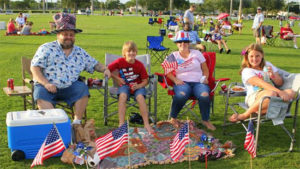 The Fourth of July celebrates the legal separation of the original 13 colonies of the United States from Great Britain during the American Revolution. The actual separation took place on July 2, 1776 when the Second Continental Congress voted to approve a resolution of independence that had been proposed in June by Richard Henry Lee of Virginia declaring the United States independent from Great Britain. The Declaration of Independence explained this decision and Thomas Jefferson was the main author. This document was approved on July 4 after Congress debated it and made some revisions. Thomas Jefferson, John Adams and Benjamin Franklin wrote that they signed the Declaration of Independence on July 4, however most historians believe the Declaration of Independence was actually signed on August 2, 1776, according to Wikipedia.
The Fourth of July also known as Independence Day is a federal holiday. It is also a major summer holiday when many people have family barbecues and enjoy evening fireworks displays. Most of the events take place outdoors. Community leaders will often appear at Fourth of July events and praise the United States and its citizens.