Mystery writer takes her series to a South Florida historic landmark

by Monique McIntosh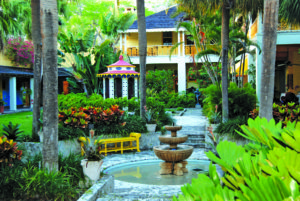 Among towering royal palms and floating water lilies, the serene escape tucked away in Fort Lauderdale's historic Bonnet House Museum & Gardens is the last place you'd expect a set up for a whodunit murder. But for local mystery writer Elaine Viets, the South Florida landmark and the city's booming art community made the perfect backdrop for her new novel "The Art of Murder" – the latest release from her ever popular "Dead-End Job" mystery series.
For her gumshoe private investigator Helen Hawthorne, this mystery doesn't travel the familiar pathways of crime plots set in old, grand family homes – no devious butler or conniving cousins seeking the family fortune here. "Instead," Viets said, "the novel became an ode to the home's rich artistic legacy forged by Chicago artist Clay Bartlett." Constructing this winter home with wife Helen in 1920, the Bonnet House quickly became a creative canvas for Bartlett and later his second wife, fellow artist Evelyn Fortune Lilly. In addition to their collections of classic works by Pablo Picasso and Paul Gaugin, both filled their home with festive murals along the floor and ceilings, and decorative art crafts, including rescued, hand-carved merry-go-round animals perched around the courtyard, and a dining room filled with taxidermied fish that guests could point to when ordering their preferred dinner.
"Like most people, I thought [the Bonnet House] was one more rich person's house. So many of those are lifeless, dreary accumulations of art and treasure," Viets said. "[But] my husband, Don Crinklaw, persuaded me to visit the place and I was enchanted. Bonnet House has life, color, and humor. I love that the artist-owners, Frederic Clay Bartlett and his wife, Evelyn Lilly Bartlett, mastered the art of living. It shows a monument to their love for each other, and Evelyn worked hard to make sure that their home would be preserved."
So with many nooks and crannies to explore, Viets' usual dive into a local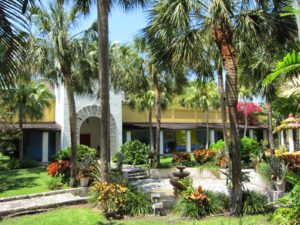 profession (which she does as research for every "Dead-End Job" novel) was an escapade itself. She even volunteered as an official greeter for the museum.
"Elaine wanted to come on as a volunteer to learn more about Bonnet House and what made it special," said the Director of Education and Volunteer Programs for the Bonnet House, Linda M. Schaller. "She worked as a greeter meeting every guest who came in on her watch."
It was also as a volunteer that Viets discovered why the Bonnet House made the perfect backdrop for a mystery, naturally attracting the many local characters (almost too good for fiction) that call South Florida home.
"Bonnet House attracts such interesting, sophisticated people who have traveled the world," Viets said. "I met a retired surgeon, a funeral director, a flight attendant, a community activist who cares for the stray cats in her neighborhood, and so many more."
The museum's popular art classes in particular made "a good setting for a mystery," Viets said. "The classes attract people of many talents and backgrounds, and they're at the museum long enough that Helen can get to know them."
Though the home didn't turn out to be an artistic refuge for the novel's murder victim, Annabel, Bonnet House has become the nexus for Broward County's growing art scene, which is also featured prominently in the novel, from hot exhibits at FAT Village to the ever popular monthly art walks.
In fiction and the real life, this vintage canvas by the sea perfectly reflects the city's enduring quirky, artistic spirit. "Readers accept that people in South Florida are more eccentric than the rest of the country," Viets said. "This region is wonderfully diverse. Plus, we're all slightly touched by the sun."