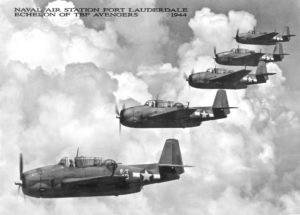 by Aaron Krause
The site where former President George H.W. Bush trained as a torpedo bomber pilot is a short drive away.
For free, folks are welcome to visit the sight — the Naval Air Station Fort Lauderdale Museum.
The attraction, located near the Ft. Lauderdale/Hollywood International Airport, features World War II artifacts such as helmets, model aircraft, model ships and a radio calibrator.
You'll also find the signatures of Bush and Sen. John McCain, who is also a veteran, on a mural depicting military aircraft on their final approach into Naval Air Station Ft. Lauderdale.
Museum director John Bloom said the mural is the museum's most priceless item.
"It's irreplaceable," he said.
"In addition to the mural, visitors can browse nearly 500 models of airplanes and ships and thousands of artifacts and "tens of thousands" of pictures," Bloom said. Medals are also on display.
In 1942, Naval Air Station Fort Lauderdale was constructed on the site of Merle Fogg Field as part of the national defense program. It served as one of 257 air stations during World War II. The naval base is now what might be a familiar destination for you – Ft. Lauderdale/Hollywood International Airport.
Bloom said Miami International Airport was also a training base for torpedo bombers.
"Florida had tons of training bases," he said.
The only remaining structure on the former Ft. Lauderdale base is the Link Trainer Building, which housed 6 to 8 Link Trainer flight simulators.
Bloom said visitors to the museum mostly hear about the place by searching Flight 19 on the Internet. That aircraft departed NAS Fort Lauderdale on Dec. 5, 1945. It disappeared into the Bermuda Triangle and was never accounted for.
Every year, on that date, the museum has a ceremony in memory of the 14 airmen who perished. Bloom said a couple hundred people attend each year. The ceremony includes the clinging of a bell located within the museum's 6,000 square feet.
Bloom said in addition to the mural signed by Bush and McCain, another valuable object is a radio calibrator from World War II. On a recent day, a man entered the museum and gifted it to the facility.
"He just walked in and wanted to give it to us," Bloom said. "It's nice because now other people will see it. He didn't want anything for it, he didn't want any acknowledgement."
Visitors will also find a British Enfield rifle, which someone discovered under the sand of a Normandy beach during the 1980s.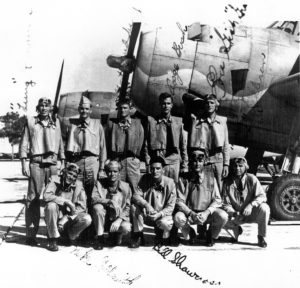 A serviceman used the weapon during D-Day. That day occurred on June 6, 1944, when more than 160,000 Allied troops landed along a 50-mile stretch of French coastline to fight Nazi Germany.
While many are familiar with D-Day, many visitors previously hadn't heard about the museum, Bloom said.
"Wow, we never knew this was here," Bloom said, echoing what people often say when they visit.
The museum, run solely by volunteers, has attracted people from as far away as Hong Kong, Brazil, Puerto Rico and England.
One of its more prominent visitors has been the former first President Bush. In 1992, the former commander-in-chief stopped by, signed the mural, and identified the room in which he lived for about three months during his training, in the summer of 1943.
Naval Air Station Fort Lauderdale Museum
Hours: 11:30am to 3:30pm. Thursdays, Saturdays and Sundays. The last tour is at 2:30pm
Where: 4000 W. Perimeter Road, Ft. Lauderdale
Cost: Free
For more information or to request a tour on days when volunteers aren't present, call 954-359-4400. The museum's website is nasflmuseum.com.