by David Volz
As you walk into the Fort Lauderdale Antique Car Museum you'll hear music playing from the early to mid-twentieth century. As you look around you'll see a replica of a service station, one from a time when an attendant pumped your gas and serviced your car. But the main attraction of this unique museum is the showroom of expertly restored Packards.
The museum is dedicated to the preservation of the history of the Packard Motor Car Company. There are 39 Packard cars on display, the oldest a 1909 model and the latest, a 1958 model. Most of the cars can still be driven. One can learn about each car on display and its unique features. You can see advertisements for the cars, and gain a sense of how the automobile industry developed.
When Packards were being produced, they were considered high-end luxury cars that were known for high quality workmanship. The cars were expensive and owned by wealthy and famous people. There is a gallery dedicated to the late President Franklin Delano Roosevelt. The late President Calvin Coolidge owned one of the Packards. The museum display includes Roadsters with compartments for golf clubs, a doctor's coupe with a compartment for a medical bag, and a 1929 645 Dual Cowl Phaeton that can self-lubricate its chassis as it drives. The oldest car on display was built in 1909 at a time when headlights were considered an innovation. The museum also includes a large red truck and a police vehicle, along with thousands of automobile memorabilia items. There are hundreds of dashboard clocks that are hand wound, hood ornaments from all makes of cars, rare carburetors, side lamps, custom gear shift knobs, and many other items.
The Fort Lauderdale Antique Car Museum is the work of the late Arthur and Shirley Stone. They had a love for Packard cars and a passion for collecting them. They actually began collecting Packards in the mid-1940s at a time when these cars were considered the top luxury car in production in the U.S.
Arthur Stone, 90, died in 2010, and Shirley, 97, passed in 2016.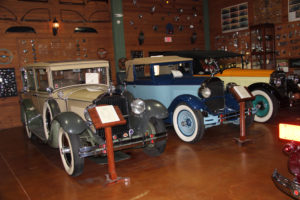 In a quote left by Arthur Stone he said, "It's the great American love story! Americans have had an incredible love affair with their cars. This museum is a place for everyone to revisit that."
As you spend time learning automotive history, you may begin to feel part of a bygone era, a time when cars were new and people were excited by the latest innovations. It was a time when going for a drive was an important family activity, and getting a new car was a big event.
The Packard was a luxury car built by Packard Motor Car Company of Detroit, Michigan and later by the Studebaker-Packard Corporation of South Bend, Indiana. The first Packard cars were produced in 1899 and the last in 1958. One of the last concept cars was built in 1956, the Packard Predictor. The brothers James Ward Packard and William Packard and their partner George Lewis Weiss founded Packard in Warren, Ohio. They produced 400 cars there from 1899 to 1903. Investors were brought in and the operation was moved to Detroit where it was named the Packard Motor Car Company in 1902.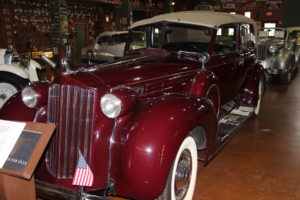 The Fort Lauderdale Antique Car Museum is located at 1527 SW First Ave., Fort Lauderdale. Hours are Monday through Friday, 9am to 3pm. Saturday and Sunday, call for hours. For information, call 954-779-7300.
The Museum is available for corporate functions, private parties, weddings, special events, group tours, and school field trips. There is even an antique style bar for events.