Teen Poet Wins National Award
by Candice Russell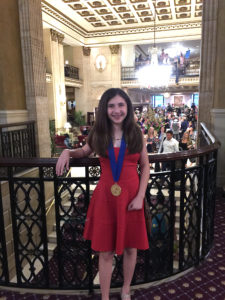 Karina Benitez, 13, of Coral Springs, is a gold medal winner of a National Scholastic Art and Writing Award. Competing with others in the 7th to 12th grade category, she didn't feel she was experienced enough as a poet to even enter the contest. But her teacher at Mary Help of Christians Catholic School and her mother, Yvette Benitez, strongly encouraged her to enter the contest.
The title of her wining poem is "What a Tragedy," about how people can perceive problems. "The inspiration was from my own experience," Karina said. "There are some truly serious problems in the world, like the real struggles of other people which would be hunger literally, or people who are oppressed and not given opportunities, or were backstabbed."
Only two other seventh graders won in the same category, a high honor for Karina. She travelled to New York City for the awards ceremony at Carnegie Hall. "It was a huge event," she said. "Alec Baldwin and Tim Gunn were singing my praises with 2,000 winners on hand. I felt the comments were very personal and said with such sincerity. It was amazing."
At an adjunct event at the Pratt Institute, Karina got to exchange ideas with other winners and even met Billy Collins, one of her favorite poets. She also enjoys the poetry of Emily Dickinson and Robert Frost.
Karina is the only writer in the family. "My parents are very academic, and emphasize good grades," she said.
Though her career ambitions are taking her in another direction to become a medical lawyer, she said she would always pursue poetry as a hobby. "I never plan to give it up because it is a comfortable place for me," she said. "It was always be there and it's reliable because I like doing it."
Karina's circle of friends has been supportive. She also enjoys painting and drawing as another hobby.
Karina Benitez is an example of the hope of a new generation, whose thoughts and ideas about the world have universal application.