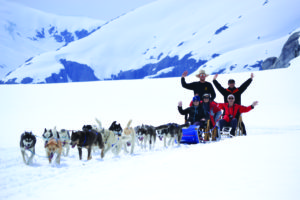 by Victoria Landis
Humans are competitive about everything, especially sports. We are also quite inventive. So when some of us are no longer willing or capable of exerting ourselves, we find surrogates to compete for us. Who, or what, are those surrogates? Well, in the 'good' old days, slaves and prisoners were fodder for such amusements. In modern times, forcing others to run, fight, or die for our entertainment pleasure is, apparently, frowned upon. Sigh. So what's a rabidly competitive society full of obese couch potatoes supposed to do?
Entrance−stage right−our animal friends. Seems as though they're game to do anything for us. Some actually know we're using them to amuse ourselves. Dolphins and elephants come to mind. How about the penguins from Madagascar. But others are thrust into situations that have to be bewildering to them. It's beyond bewildering to me.
Take, for example, the Crisfield Crab Races in Maryland. Officially called the Crisfield National Hard Crab Derby, it happens annually over Labor Day Weekend. So, sorry to say, if you're just reading about it now in October, you've missed your chance. It's a crab-themed festival with cooking, rides, crafts, fireworks, beauty queens, a parade, arm wrestling, and racing crabs. A much-needed aside here−somebody please clarify for me just what sort of young woman wants to wear the label Crab Queen? Or Queen of the Crabs? I think even the pushy mothers from Toddlers and Tiaras would have enough sense not to allow their daughters anywhere near such a moniker. That is a title that will follow you for the rest of your life. What if she decided to become an X-rated film star? Her chances would be torpedoed from the get-go.
Back to Crisfield's celebration of the crustacean. As much as I studied the web page, I did not see colored racing stripes or painted flames of glory on their backs, only boring chalky white numbers. Not very exciting. Although it paints a picture in your head of crabs doing their darnedest to inch along a track, carefully staying in their designated lane, that isn't at all what happens. The pictures I saw show a multi-lane board all right−but one end was hiked up to an almost 45 degree angle with little 'starting gates' at the top. Once the gates open, the crusty critters kind of slide, more than race, down. I for one, am outraged. The good folks in Crisfield could learn a thing or two by paying attention to the other absurd animal races.
There's hamster racing−in little cars no less−in the UK. It started in 2001, when a hoof and mouth disease put the kibosh on some of England's horse races. They keep world records and everything. (See? I told you we were inventive . . .) There's even Professional Hamster Racing now, covered by BBC London, The Sun, and The Daily Mail. Bookmakers take bets on it.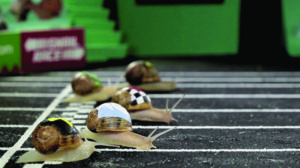 There's races for cows, cockroaches, rabbits, lizards, buffalo, ostriches, snails, sheep, cane toads, camels, and pigs. Yikes!
As much as I would like to enlighten you about all of these wonders, my space is limited. So I will wrap up with what seems to be the biggest misnomer here: Snail Races. The world championships are hosted by our buddies, the Brits. Placed in the center of a 14-inch circle, the first snail to touch the outer circle line wins. In what has to be the most sleep-inducing event in the sports universe, it takes the average snails almost four minutes. Ah, but a snail named Archie in 1995 won it in just two minutes. Those spectators, assuming they had plenty of time for a bathroom break, must have been majorly bummed at missing that finish.