by Victoria Landis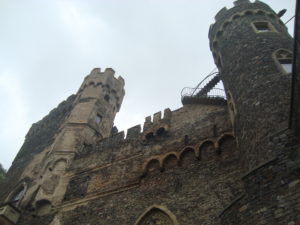 If you carve your Thanksgiving turkey in a galvanized tub while wearing cargo shorts and sitting on a stool on a flat castle roof, you might be a unique kind of redneck.
For 16 years, I hosted Thanksgiving dinner, usually for 10 to 12 people. I skew toward a medium-formal setting when I host; placemats, napkins, matching silverware, a table centerpiece, but nothing too Martha Stewart-y. But last year, I needed a break from the two full days of dawn-to-dusk cleaning, prepping, and cooking. So I made my cancellation announcement to the normal invitees, withstood some loud, and withering complaints, then my significant other and I headed south. Since we were lucky enough to be in the Florida Keys, we were invited to partake of the annual feast at the home of an acquaintance of the SO's.
They were so kind to include us, and we gratefully accepted. I brought a big bottle of Pinot Grigio, and a from-scratch apple pie. We arrived at 3pm, as requested. They lived in an unusual place: A fake medieval castle. Yeppers. Had the notched parapet wall at the top and everything. A souvenir shop occupied the ground floor, and although there was no way to tell from the outside, the second floor had four apartments.
We trudged up the exterior stairs, knocked on the first door, and found 13 other people crammed into a teensy apartment without a table. There was a small living area that barely fit a sofa and side chair. and The television stand was flanked by a miniature kitchen with maybe a total of eight-feet of counter space.
Now, don't get me wrong, I'm not putting my hosts down for being obviously economically challenged. But imagine our head-scratching, trying to figure out how they planned to feed us. There wasn't space for each of us to actually sit anywhere. I wondered if their good intentions hadn't been thought through.
The tiny kitchen had every available inch covered with various foods in the making, ingredients, dirty prep dishes, and booze bottles, since it also functioned as the bar. I opened my Pinot Grigio, poured a generous amount into a red plastic cup, and asked if I could be of any help in the kitchen. She put me to work making the gravy. While busying myself with my task, I asked the hostess, as nonchalantly as I could, how she planned on serving everyone. "We're eating on the roof," she said.
That inspired one of her kids to show me said roof. We went outside, up another flight of stairs, and a huge open area of flat concrete appeared. The notched walls were high, so no one would ever suspect parties could happen on top of the souvenir shop. Folding chairs lay against the wall, and three silt-encrusted folding tables sat empty in the middle of the space, but far away from and at odd angles to each other. So, you might ask, why wasn't anyone from the crammed apartment hanging out up there?
Wind. It was so windy. How to prevent everything from blowing away? I shook my head, shut my mouth (It's taken years, but I've gotten pretty good at that), and went back downstairs.
Our hosts made enough food for half the town. Two turkeys−one oven-roasted and one deep fried−and an enormous ham simmered in a big pot of Coca-Cola. No, I can't explain that. Three kinds of potatoes, green beans, cornbread, and pasta salad. When it was time to eat, we hauled the food to one of the roof tables. The sooty dirt wasn't cleaned off of any of them. They weren't repositioned so the guests might feel like they were dining together. No tablecloths or placemats (they'd have blown away). Paper plates and paper towels were weighted down with rocks.
Our host pulled up a stool and put two galvanized tubs on the concrete floor, each holding a turkey. Using an electric knife, he carved them and placed the meat on platters, also set on the floor. Remember, it's outside. Loose dirt abounds and it's windy.
It was a precarious thing, holding a flimsy paper plate flapping in the wind while trying to plop food on it, and keep the plastic wrap or foil covering each dish from becoming airborne. In the end, that effort failed, and all that wasn't secured did eventually sail off into another person's backyard celebration.
We ate holding our plates down with one hand. When my SO, seated to my right, had finished his meal, he forgot for a moment and let go of his plate. A gust of wind picked it up and flung it at me. I went home with gravy and potato grease spots all over my shirt.
Thanksgiving is the American holiday. We celebrate it in many ways. There is no right way. Although it's a ton of work, I am looking forward to my more traditional one again. Indoors.