Life is a highway for female trucker Desiree Wood. This wasn't always the case, and her dream job wasn't to be driving a big rig. "I was in a bad situation, and my friend encouraged me to try it," she said.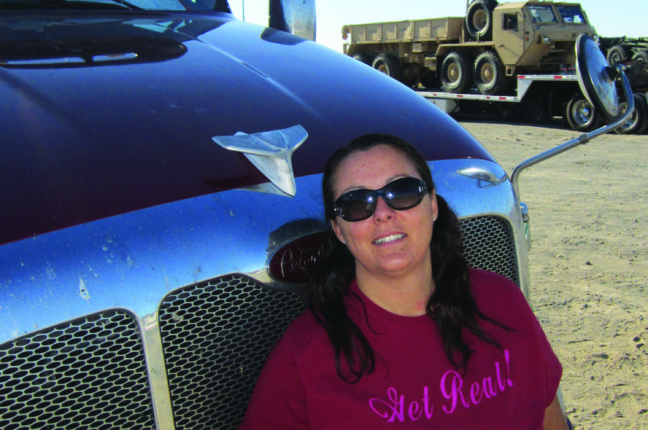 Wood reasoned that since her children were grown, and she was single, couple that with her love to travel, this would be a good fit. Her next step was to get her commercial driver's license, which proved to be quite problematic. The obstacles she encounter took quite a bit to overcome.
Wood discovered that most CDL schools were a scam. At one point she wrote a story that Dan Rather investigated. Rather interviewed her, and the piece, titled "Queen of the Road," aired. (youtube.com/watch?v=bdi37oFBW5k).
Because of how difficult it was for her while she was training, Wood's co-founded Real Women in Trucking. The website, realwomenintrucking.com, has information and support for women who are interested in becoming truck drivers. The site also lists CDL schools, both good and bad. It also includes events, news, and a blog.
Woods has been driving for nine years. "I drive a truck both locally and long-haul. This past year I was working with a truck driver staffing agency in Fort Lauderdale that had me working in a number of different driving positions that included Pompano, and Deerfield – where I was living when I became a truck driver-, Boca, and throughout the state. Through them I found a position in Palm Beach County where I could drive both locally and long haul delivering specialty plants that are sold at Home Depot and Lowe's."
Woods has three pieces of advice for women who want to become truckers. "First, make sure you are not used to life's pleasures. You need to learn to rough it. Second, Do thorough research on a school, and be willing to live on small pay. Third, make sure your health is good. Driving is hard on a body," she said.
A final word to the public, Wood said "When you see us on the road, remember we are your moms and grandmas. We see you driving. Don't cut us off!"