As a young girl, Rachel Martinez considered different career options. She thought about being a doctor or an architect. Then she had the opportunity to take an airplane ride with a program known as Young Eagles through the Experimental Aircraft Association in Homestead.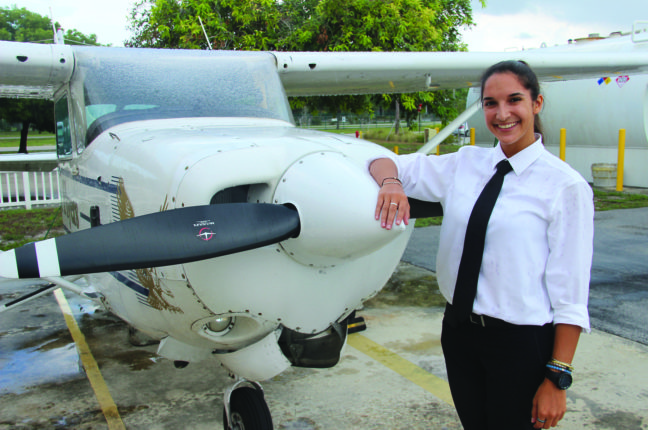 "I went up in a Cessna. It was my first flight, and I loved it. Then I saw an older Navy plane with an open cockpit. My mom talked to the pilot and he gave me a ride. When we were airborne, he allowed me to fly the plane. It was the best feeling and I fell in love with flying," she said.
Martinez went to Embry-Riddle Aeronautical University in Daytona Beach where she majored in aeronautical science, and minored in aviation safety. Martinez earned a bachelor of science degree in three and a half years. She earned her pilots license there, and become certified to fly multi-engine aircraft. She completed a training program at American Flyers in Pompano Beach so she could teach people to fly planes.
While Martinez loves flying, she does not consider herself an airplane fanatic. Her family was not involved in aviation. Her mother encouraged her to follow the dream to be a pilot. "I love flying. The views are beautiful and I am at peace when I am flying," she said. "It is such an adventure to fly."
Eventually, Martinez would like to get hired by a major airline. If she realizes this dream, Martinez hopes to continue giving flying lessons on a part-time basis. "I enjoy teaching others to fly," she said. "I want to volunteer with Young Eagles. That would my way of giving back to the aviation community. I would volunteer with the program that I went through."
For now, Martinez is working on building her flight time hours. She needs 1,000 hours to be considered for an airline position. She also will have to earn her airline transport certificate to work for an airline. Once she has these qualifications, she hopes to get hired by a regional airline, often a first step to getting hired by a larger airline. If an airline offers her a position, the organization will provide her training on flying jet aircraft. Much of this training will take place in a flight simulator.
Martinez is a confident and articulate young woman. She likes to help others, and being a pilot allows her to do so. "I enjoy seeing families and individuals reach their destination. Everyone has a reason to travel whether to see family or to visit a new place," she said.