Cross Country is a popular sport in Parkland and Coral Springs. High school teams are performing well in local and regional competitions. The coaches and student-athletes agree that dedication, discipline, and the right attitude is what propels these teams to winning meets.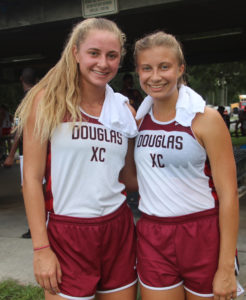 The Stoneman Douglas Cross Country program has been very successful over the years. Team members are expected to put in long hours of training and be dedicated to the sport. This year the girl's team has performed well in all its regular meets and invitational meets.
Emilia Thom, a senior and team captain, recently finished first in a large meet featuring Coral Springs schools. "It takes a lot of dedication and discipline to be a good cross-country runner. I train six days a week. It is something I like to do. It is therapy for the brain," she said. "The feeling of winning is awesome," Emilia said. Her goal is to make it to the state championship. Emilia is also in the top 10 percent of her class academically.
Angela Chambers, a coach for the team, believes that dedication is important to winning. "A runner needs to be motivated. We do speed workouts and we train on hills. We also do long distance runs of as much as ten miles. You need to have a good attitude to be a good cross country runner," she said.
Amanda Taylor, one of the top runners on the Stoneman Douglas team, believes the right mindset is what helps her achieve her goals. "It takes discipline and hard work. We do a lot of speed workouts," she said.
Karel Klos, a senior and team captain for the Stoneman Douglas boy's team agrees. "It takes a lot of mental strength and discipline to do well in cross country," he said.
Each day, the athletes participate in demanding running workouts to improve their time over a 3.1-mile course. They may run ten miles in a single workout, or complete shorter runs at a higher speed.
"It takes mental toughness and a lot of commitment. We do cross fit training and long distance runs," said Kate Hearn, the coach of the Coral Springs Charter Cross Country team.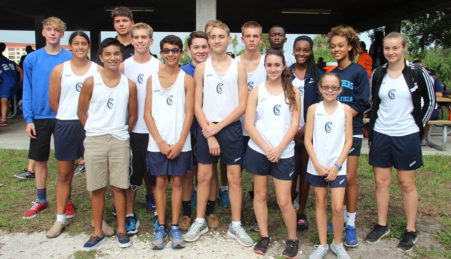 Austin Shook, a top runner on the Coral Springs Charter boy's team said, "We run a lot of miles every day. I do a lot of training on my own. It relaxes me and relieves stress."
Jodi Medina, the captain of the Coral Springs Charter Girls team, sees a dual side to training. "This is a good way to stay in shape. I have been running all four years of high school. I like being a part of the team," she said. Medina also plays on the school's soccer team.
Irwin Goldberg has been a cross-country coach at J.P. Taravella for many years. He is nearly 90 years old and has been coaching cross country for about 65 years. He enjoys being with young people who have an interest in distance running. Goldberg has found that distance runners tend to be high-quality students and are well behaved.
"I love the kids who come out and run cross-country. They are very nice and they are committed to doing better every day. Distance runners don't fail in school. They are very dedicated to doing well in every area of life. They will go all out to achieve a goal," Goldberg said.
Michel Normal, the top runner on the J.P. Taravella Boy's Cross Country team knows the value of hard work., "It takes discipline and hard work to be successful in the cross country. You have to work hard to be successful," he said.
"It takes commitment and dedication to do well in cross country. These are athletes who want to have better times and accomplish all they can," Goldberg said.
Brantley Barr has been coaching cross-country for 37 years at Coral Springs High School. He believes it is important to encourage the sport. "I try to develop a lot of young athletes. After a few years of dedicated work, some of the runners will become very successful," he said.
Tyler Brunton, the captain of the Coral Springs High School Cross Country team, was among teammates who participated in the Coral Springs Championship meet. "Running and being on the team is fun. I have been on the team since my freshman year," he said.