Few things are more satisfying than a thoroughly cleaned and de-cluttered home. Newly scrubbed floors, polished furniture and de-grimed windows are visible proof of your hard work, and when closets and filing spaces are pared down and organized, the mind feels like it's been through a spring cleaning of its own.
Few modern chores are as physically exhausting, either. After a weekend of serious spring cleaning, you realize why the task is an annual project.
The better way you've been wishing for has arrived, thanks to robots and other automatic cleaning tools that have turned housework into high-tech work. Depending on your comfort level, they may even make you look forward to cleaning.
Robotic Cleaners
The automatic vacuum cleaner has been with us for almost two decades, but you can now get a robot for almost every cleaning chore inside and outside the house. The technology has advanced to include WiFi connectivity and smartphone apps for automatic and remote control, and at least one brand will even do windows. They'll work whether you're at home with them or away, although if you have pets you may want to try a few test runs before leaving them alone together.
Here are three leading robotic-cleaning brands in an ever-expanding specialty.
iRobot (irobot.com)
It all started with Roomba, first introduced by iRobot in 2002. The little round robot revolutionized cleaning; just turn it on and watch Roomba travel across the floor, sucking up dirt and memorizing the room layout for the most efficient cleaning. iRobot has added new models with increasingly sophisticated features, from WiFi connectivity to the ability to move smoothly from bare floors to carpet. You can also get an iRobot to mop your floors (Braava), clean your swimming pool (Mirra) or clear out your gutters (Looj).
Ecovacs Robotics (ecovacsrobotics.com)
Ecovacs' Deebot Slim does all three tasks for the floor: It sweeps, vacuums and even mops. You can get Ecovacs' Winbot to do your windows. It clamps onto a widow of almost any size, both with and without frames, and tracks up and down the glass, cleaning with its special solution. An extension cord enables cleaning up to 4.3 meters high (about 14 feet).
Neato Robotics (neatorobotics.com)
Neato's Botvac vacuums any kind of dirt but its specialty is pet hair. The company claims to have the most effective pet hair cleaning on the market. Its smartphone app includes coverage maps showing you where it's cleaned. Available accessories include boundary markers to keep Neato away from objects you don't want it to pick up.
Bathroom Helpers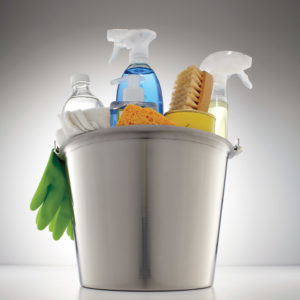 Unfortunately, a toilet-cleaning or shower-scrubbing robot is not yet on the market and probably won't be for some time. There are tools that can make cleaning the bathroom a little easier, although you may still be required to provide the elbow grease.
Automatic Toilet Cleaners
The word "automatic" may be overstating things, since you really have to start with a clean toilet; this is more about maintenance. Once the bowl is clean, simply hang the automatic cleaner in the tank and send cleaning solutions into the bowl with each flush.
Automatic Shower Cleaners
People have had less success with these; reviewers are ecstatic at first but later report they start to fail after a few months or need refills more often than expected. The cleaners work by spraying cleaning solutions around the shower/tub enclosure.
Power Scrubbers
For built-up soap scum, several companies offer scrubbing gadgets specially made for the kitchen and bathroom. You can also purchase cleaning pads that attach to an ordinary electric drill. Apply some cleaning solution to the pad and start smoothing away the dirt. Keep the pad firmly against the surface but let friction do the work.
Keep It Clean
Once your home is sparkling-fresh again, save yourself that huge chore next year. Keep up with day-to-day dirt as it appears, but focus your weekend housework on the bathroom and one other room each week. You may not have that satisfying just-cleaned smell from a whole-house assault, but you also won't need a weekend to recover.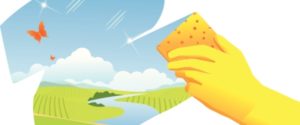 FYI
For tips on spring cleaning, the internet has a variety of sites to visit.
A few of those sites are:
hgtv.com/design/decorating/clean-and-organize/7-spring-cleaning-tips
diyhshp.blogspot.com/2013/05/21-spring-cleaning-tips-tricks.html
marthastewart.com/275599/10-clever-cleaning-tricks
goodhousekeeping.com/home/cleaning/g2550/best-cleaning-tips