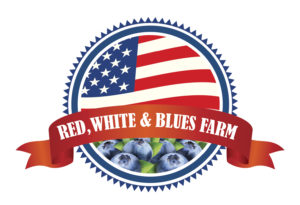 North of Ocala and south of Gainesville is a travel destination that is literally blueberry heaven. It's the Red White and Blue Farm nestled in the quiet town of Williston, about one hour from Orlando.
The farm's name is symbolic of patriotism and love of country, but Terry Robinson who co-owns the family business with wife Sharon, son Devon, and his daughter-in-law, Sarah, admits the "blue" was a good fit to advertise the farm's blueberries. "It was a perfect fit," he said.
It's a perfect fit too for the masses that travel to the farm to select choice blueberries, dine on homemade lunch specials, enjoy delicious items from the bakery, and visit the ice cream parlor. At RWB, its everything blueberry—from milkshakes sundaes, and muffins, to cobbler, pies, scones, cookies, jam, and more.
After a busy day of blueberry picking and dining, guests can settle into comfortable rocking chairs and appreciate the ambiance of a farm surrounded by 200-year-old Oak trees. "The farm's ambiance is hard to duplicate," Robinson said. "It has a real old school picturesque feel to it, and people love that." Against this beautiful backdrop, the farm also hosts weddings.
According to Robinson, visitors arrive from all over the state—including many from South Florida. "When you come here, it's very much a family outing because there's something for everyone to enjoy," he said.
You Pick Days

The farm sits on 100 acres, 38 of which are lined with neat rows of select blueberries. The "You Pick" days are a family favorite, and open seven days during the picking season that begins in April and ends in May. This year, according to Robinson, the season will be extended into the first couple weeks of June.
There is a grass parking area for vehicles. Visitors are met and are given instructions on where to pick and walk in the fields. Guests are provided with a special picking harness that hooks onto a bucket that hangs at chest level so they can pick with both hands. Their box is capable of holding about six pounds of blueberries. "I've seen some pick as much as 50 pounds of blueberries," Robinson said. "If you don't want to pick, we sell a cooler that holds two pounds of blueberries for only $10."
There are various varieties of blueberries to choose from, and at the end of every row is a stake with a color indicator for each type of blueberry. Red is Windsor, green is Emerald, purple is Spring High, orange is Sweet Crisp, blue is Jewel, yellow is Star Highbush, gray is Primadonna High, and black is Farthing. Robinson said it takes anywhere from 30 to 90 minutes to pick a bucket and that some people want to taste every variety. Once the fruit is harvested, visitors go to a weigh station and are charged $4 per pound. "We provide everyone with a box container and it's a perfect size for any refrigerator."
"There was a time when a woman came up to me and said, "Your farm is like Disneyland compared to other farms," recalled Robinson. The reason is simple—the taste. "Every blueberry farm is different; if you grow 20 miles away the water and soil may be different, so the harvest and taste will differ," he said. "A blueberry contains 87-90 percent water, and we're fortunate that our farm has the resource of an intricate river system, so the quality and taste of our product is exceptional."
Educational tours and field trips take place on Tuesday, Wednesday, and Thursday. "We explain to kids the importance of bees and honey and how they impact our environment," commented Robinson. "While the kids learn, the parents pick." Also on the grounds is also a play area for children and picnic tables under the Oak trees. "We get a lot of moms with their kids and both parents and kids just love being here," said the co-owner of the farm that had its roots in Stuart in 2007 and moved to Williston in 2010.
For those that love everything blueberry, the Red White and Blue Farm is a must-see destination on your travel itinerary.