Over a 58-year period, they left their homes, probably for good, with their clothes on their backs. Some brought their families as they fled their oppressive homeland, while some might not have had any choice but to leave their family members behind – perhaps never to see them again. They could no longer stand the oppressive regime that tormented them and even killed their loved ones.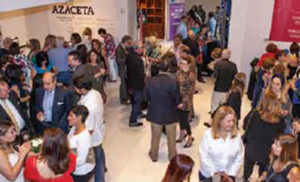 They sought freedom; freedom from the totalitarian state in which they lived, and the freedom that comes with living in a democracy, one in which they could pursue the American Dream. it's a true story, one likely familiar to almost everyone living in south Florida. And it's a story that a miami museum with one of the city's newest buildings, the American museum of the Cuban Diaspora, seeks to relate to visitors in detail. Founding director Ileana Fuentes wants to be clear: Miami's "new kid on the block," as she calls it, is more than an art museum. She won't refer to it merely as a "cultural institution" either. "it's a much larger historical storytelling type of institution," said Fuentes, who left her home country of Cuba at age 4 as part of Operation Peter Pan – a "mass exodus of more than 14,000 unaccompanied Cuban minors to the United states between 1960 and 1962," according to Wikipedia. A Catholic priest created the program to fly Cuban children to the United states. Fuentes, 68, left her home country without her family at age 13 and spent her first year in the United states in an orphanage in Denver, Colo. Within a year, Fuentes' parents arrived in the U.s. "Other people weren't so lucky," the author and historian said. A mix of trustees of the museum, sponsors, and supporters of the museum, along with members and staff of the Greater Miami Convention and Visitors Bureau attended the May 4 event.
Fuentes and her family settled in New York, where relatives lived. She grew up in New York, attended school there, taught there, and worked as an administrator at Rutgers University. She's lived in Miami for the past 21 years. After the museum was founded in 1996 as a "museum without walls" to spread awareness about Cuban Culture, Fuentes joined the organization as a cultural consultant in 2009. The museum seeks to enlighten people about the Cuban Diaspora. Its mission is to "tell the story of the Cuban Diaspora through the eyes of its greatest artists, thinkers, and creators," according to the museum's website. Culture, history, and gender are Fuentes' main areas of expertise. "It's been my career for 40 years," she said. Fuentes said the museum has expanded its mission to not just promote Cuban culture, but to tell the story of the Cuban Diaspora in a way that incorporates humanities, sociology, and history, among other disciplines.
The building may look small from the outside, but when people enter the facility, they'll notice white marble floors, white walls, the "huge" lobby and the "gorgeous" roof and terrace, Fuentes said. The exterior includes a garden featuring a fountain and foliage. The building encompasses a total of 15,000-squarefeet, 7,000 of which is devoted to gallery space. There are four galleries and three floors (two plus the roof). The museum is in Miami at 1200 Coral Way, where that road turns into Third Avenue. It's near the Vizcaya Metrorail station. The Miami Trolley includes a Coral Way route, so people can take advantage of that free mode of transportation to and from the museum. Miami Museum Month falls each May, allowing visitors and local residents to take advantage of offers such as "Buy One, Get One Free admission" and "Join One Museum, See Them All."
The city chose The American Museum of the Cuban Diaspora to launch this year's event as the featured museum. In early May, the public was invited to tour the museum, which included an exhibition titled "Orlando 2016," in memory of the victims of the multiple murders inside Pulse, a gay Orlando nightclub where 49 people were killed and 53 wounded in a terrorist attack/hate crime on June 12. According to www.cnn.com, the shooter, Omar Mateen, a 29-year-old security guard, pledged allegiance to the terrorist group ISIS. He was killed in a shootout with Orlando police. The exhibit is the work of Luis Cruz Azaceta, who "fled Cuba from the threat of compulsory military conscription under Fidel Castro's newly formed regime," according to the museum's website at thecuban.org. "He moved to the U.S. and used his previous experience with the dictatorial regime to create his work." Azaceta "explores the themes of terrorism, war, and exiles in his 29-piece exhibition that spans from 1980 to the present. Oppression and the human spirit weave together to bring this affecting exhibition to life." Fuentes estimated about 300 people attended the event in early May.
The museum also offered a preview to the public last November. "Everybody was flabbergasted," Fuentes said, adding anticipation was riding high among people who'd been following the new building's development. Money for the museum came from Miami-Dade County under a bond issued in 2004. The county's voters approved the raising of funds to build and improve recreation facilities, cultural facilities, and parks, Fuentes said. She said she and museum board members are "very excited. "It's not just a museum for Cubans or Cuban-Americans," she said. "It's a museum for everybody." The grand opening is scheduled for November 16. The museum is currently open from 10am to 4pm on Saturdays and Sundays. That will change after the grand opening; hours will remain the same, but the museum will be open every day except Wednesday. Museum officials plan on hosting school groups, starting with middle school. Staff also plan on taking programs into schools. "It will be a two-way street," Fuentes said. Luis Cruz Azaceta, ORLANDO, 2016. Acrylic on canvas.