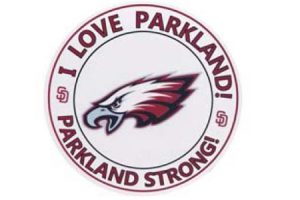 was a regular day; the sun rose as usual, bringing the Florida Sunshine over Parkland. We hurried out after a quick breakfast, some of us hearing our moms calling out to finish the toast. But we needed to get to school in time, had to catch up with notes from friends for the upcoming tests. No time be tardy, dad was already in the car, waiting to drop us off at the school. Holding our backpacks and our lunch, we ran out of the door to the waiting car, never to return.
It was a day of excitement, a special day, some of us carried special tokens of friendship, balloons, chocolates, and some cards with simple message of love. It was Valentine's Day, Feb. 14, a day filled with love for family and friends, love shared, and joy doubled.
But it was not a usual day, mom and dad.
Weapons of mass destruction took over the love we were looking forward to celebrate and we were snatched away in minutes. Not knowing what was happening we huddled ourselves in silence, hoping to survive.
You know the rest: Alive and then gone in a minute.
Alas, that was the last day of our lives.
Left Without a Goodbye
March Like You Have Never Marched Before
Don't stop Mom, Dad, relatives, and friends
We are looking down from Heaven, holding each other's hand
March like you have never marched before.
The path is rocky, with many roadblocks
But don't stop Mom, Dad, and students everywhere.
March like you have never marched before
We are the bright, shinning beams of Florida Sun
We are the coolness of the moon light night
We are first fragrant blossoms of Spring
We are colorful beauty of Fall
We are the first flurries of Winter
We are the seventeen brightest stars of any night
Don't stop Mom and Dad, relatives, and all students.
March like you have never marched before
Falter not, never should there be another such tragedy.
We are the Seventeen Angels marching with you all
We are your power and determination
We are the Seventeen Lights every corner you turn or falter.
March like you have never marched before
Our dear coach, esteemed teachers, and MSD students
We all left suddenly without a goodbye or a hug
We are in the Heavenly abode, the Best of the Best
We are looking down and guiding you as you go forward
We want you to bring changes in gun laws
You are echoing our silent voices let them be heard!
March like you have never marched before
With determination to achieve the long overdue changes
Don't stop Mom, Dad, relatives, friends, and students Nationwide
Continue to march, nothing should stop or hinder your efforts
The Nationwide Movement has started, out with the weapons
Marching you will go North, South, East, and West
Bring in Peace, Harmony, and Goodwill for all.
March like you have never marched before
Seventeen angels are holding your canopy.