times we hear of tragic events after they happen. Here is how they begin. It all starts with dispatch, "the calm voice in the storm."
DISPATCH
Gunshots echoed in the dispatch room. Kathy Liriano picked up the phone "Help! There is a man with a gun shooting at kids at MSD high school!" It was from a teacher who had students in her room that were injured from gunshots that were fired through the window and door of her classroom. As Liriano heard gunshots through the phone, she remained strong while attempting to calm the caller. She assured her that help was on the way and told her, "as long as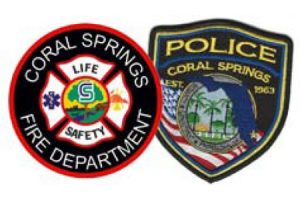 I can hear you breathe, I know you are there, so it's OK. I'm here." Liriano is the head supervisor for the dispatch call center at the Coral Springs Police Department. She jumped on a call in order to help with the more than 1,000 calls that came flooding in on February 14. Since all 911 cell phone calls made from Parkland are directly routed to the Coral Springs Police Department, the dispatch call center had quite the task in front of them. Douglas First Responders
"911 dispatchers actually are our first responders," Liriano said. They document all pertinent information from callers and relay that information to the officers being dispatched. They gather as much information as they can, while calming callers at the same time. First responders rely on this information in order to prevent them from entering blindly into a situation. Dispatchers are often referred to as the "ears before the eyes get there."
POLICE
Sergeant Carla Kmiotek, head of training for the Coral Springs Police Department, was in a meeting that day when an officer charged in and proclaimed, "There's an active shooter at Stoneman Douglas!" Sergeant Kmiotek remembers jumping up, running to her vehicle opening the door, putting on her bullet proof vest, removing her rifle from the top of her car, loading it, and speeding over to the "north side of the building" at Stoneman Douglas High School.
Kmiotek, who has a teenager herself in high school, charged into the 1200 building. She immediately encountered the carnage. Her first thoughts were "This is bad, this is really bad." Children were strewn everywhere. Some dead. Some badly injured.
There's an active shooter? What do you do first? Help those in need that might lose their lives or do you go after the active shooter? First responders face the challenge of saving lives or apprehending a violent killer. The challenge is real and Valentine's Day 2018 proved just that to be the case. A total of 30 first responders from the Coral Springs Police Department were on scene that day. The main objective of the first wave was to find the suspect. Sergeant Kmiotek was in that first wave. The second wave of first responders entered the building immediately and attended to the injured. They scoured the building, performing triage on victims with the help of tourniquets, combat gauze, chest seals, and trauma dressings, which they carry on their persons.
FIRE RESCUE
Michael Moser, Division Chief for the Coral Springs Fire Department, was the first to arrive on the scene making him the Incident Post Commander. He informed dispatch where he set up the medical treatment area. Dispatch then relayed that information to the police officers so they know where to bring the injured victims. Upon arrival to the post Commander Moser decided which victims needed immediate hospital transportation. He was in charge of managing the injured. Further triage techniques were performed at his command post. This enabled him to keep victims alive and ensure that they received urgent care. He orchestrated the coming and going of emergency vehicles and decided what hospital each victim would go to.
While interviewing Chief Moser in his office he was multi tasking. He simultaneously kept an eye on his computer while answering questions. He was working diligently to arrange public safety for the March in Parkland. Some events occur without prior knowledge and some events are planned in advance. When massive amounts of people will be in attendance there is an increased need for police and fire department presence to keep the public safe and to avoid chaos.
Although all these first responder units, from Dispatch to Police and Fire Rescue, trained extensively for this type of event, nothing can ever really prepare them for the reality of an active shooter. Kathy Liriano, Sergeant Carla Kmiotek, and Division Chief Michael Moser are just three that are mentioned here, but all those that give of themselves for others are truly heroes. Most people don't know of the efforts these true unsung heroes made on that fateful day. Fourteen victims were saved. Many more could have died if not for the quick and coordinated efforts of all the first responders.
First responders, from the beginning of a tragic event to the end, are our true unsung American heroes.