"We have a real Dr. Doolittle here," is how Allan Rose, executive director of Sawgrass Nature Center & Wildlife Hospital in Coral Springs, describes Donna Fife, the hospital director. And with good reason.
His description reflects Fife's dedication to saving wild animals and her skill in treating them, although she is not a veterinarian. On the day of my visit in early February, about 50 animals were hospitalized at the center. Recent arrivals included three doves, a gopher tortoise, and a blue jay suffering spinal trauma. The blue jay was being given steroids and oxygen and fed through a tube. Its chance for survival, Fife guessed, was about 50 percent.
The two doves had broken wings, which hospital staff set and wrapped. Sometimes broken wings heal; sometimes they don't. If a dove can't fly perfectly, it cannot be released into the wild and will have a permanent home at the wildlife center. The gopher tortoise was treated for an eye infection. As a "keystone" species, the tortoise is valuable in our eco-system because its long tunnel-like burrows provide shelter for other endangered animals.
In addition to the hospital's inpatient animals, Fife was caring for nine orphaned baby raccoons in her home. The babies have to be fed every few hours, so they couldn't be left overnight at the hospital. "It's like having my own babies," Fife said. The outlook for them is good, and she expects they'll eventually be released back into the wild.
One of the hospital's patients hasn't flown the coop. Ewok, an Eastern Screech Owl, lives at the center and now serves as an educational "ambassador" on school trips and events for wildlife education. When the owl arrived, its head tilted to one side. An examination revealed a detached retina in one of its eyes. Fife gave him a stuffed "mama owl" that he'd lean his head against to try to straighten it. "He still loves it and grooms it," she said. Ewok is friendly enough that he also sometimes provides company for Rose, sitting on the executive director's desk.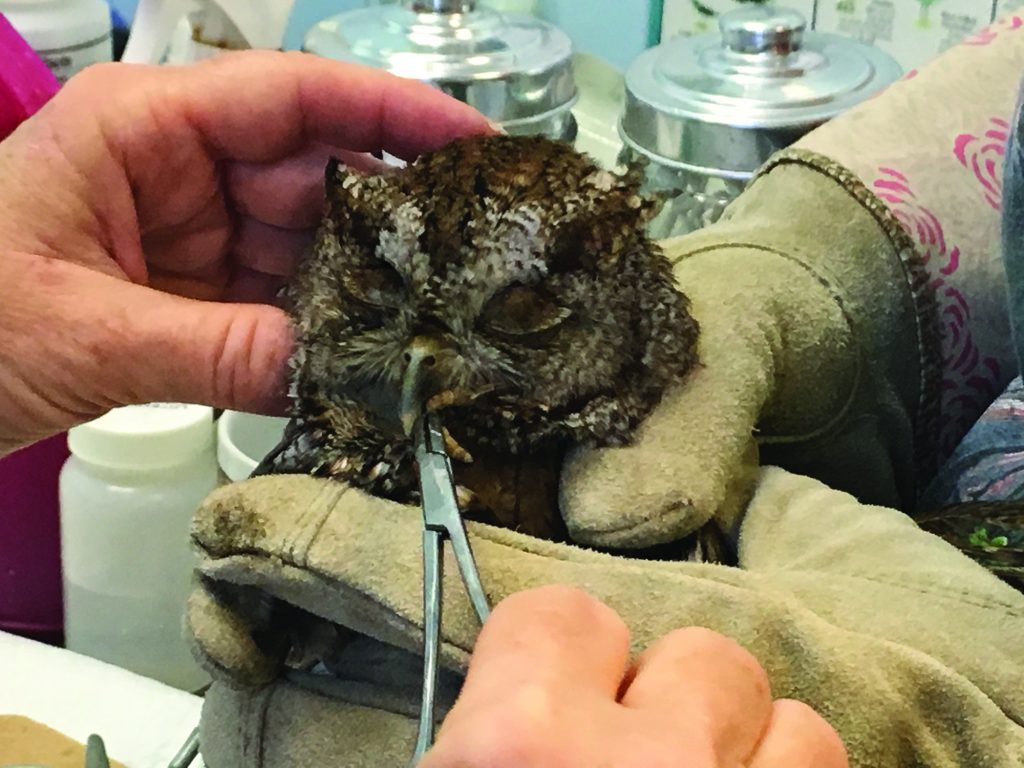 Besides medical treatment, "we give the animals a lot of TLC," Rose said.
When injured animals arrive, Fife describes the work as detective work. "We go by what we see, smell, and feel." Among the wildlife being treated during my visit was a possum found by the road about three weeks earlier. It was in such bad shape that "it looked like an alien," Fife said. It was almost bald and had lost much of its muscle. The possum was treated with subcutaneous (under the skin) fluid injections along with rounds of antibiotics and nutritional supplements. At the time of my visit, the outlook for the possum was promising.
Because possums eat rats, mice, ticks, and venomous snakes, they're great to have in your garden, Fife said. They happen to be the only marsupial indigenous to North America. Even a dead possum is welcome at the hospital, Rose said, because it could have babies in its pouch. (As a marsupial, a possum's very tiny babies crawl into the pouch after birth.)
The possum, along with Ewok the owl and the baby raccoons, are just some of the nearly 1,000 injured or orphaned animals brought to the center and hospital in a typical year. Some people make great efforts to save wildlife simply because they love animals. Others, like Robin Reccasina, the center's operations and education director, believe every animal has an important role in the ecosystem, and since humans are damaging it, we have a responsibility to help.
Not all animals are welcome at the center. Animals of an invasive species should not be brought to the hospital because they cannot be released back into the environment. They include iguanas, Muscovy ducks, and Egyptian geese.
Operating a non-profit organization almost always requires two things: money and volunteers. The Sawgrass center and wildlife hospital always needs the latter. The work isn't easy, Fife said, and volunteers must be committed. Some who don't handle animals are needed in the busy kitchen, which prepares meals for 100 or more animals of different species. Others transport supplies.
Money also is always welcome. "We rely totally on donations," Rose emphasized. "We are unique. If you love animals, this is a great place to donate." To donate, volunteer, or learn more, call 954 752-WILD (9453), or visit SawgrassNatureCenter.org.