ACHIEVEMENTS



Attending the Mayor's State of the City Address

Attending the Mayor's State of the City Address were Parkland Chamber of Commerce members Golden Johansson, left, Simeon Brier, Hon. Micahel Udine, Evan Wolk, Will J. Lawler, Kim Kadel Jack Kornreich, Steven Clark, Andrea Jacobs, and Nicole Roman
.
---
Parkland Girl Wins Golf Tourney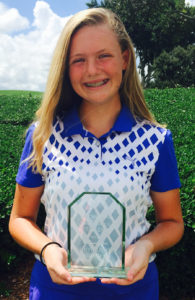 Kelly Shanahan of Parkland won the Tour Championship for Girls 12-14 for the West Palm Beach local tour of US Kids. She will compete in the US Kids State and World Championships next summer in Orlando, and Pinehurst, NC. Kelly is a member of the North Broward Prep Varsity Girls Golf Team as a 7th grader. She will compete this winter at the Publix Doral Tournament in Doral, and in the IMG Junior Honda Classic Tournament at PGA National Golf Resort. Kelly's dream is to play college golf for a division one school close to home.
---
Comeback Trail 5K rescheduled
Due to Hurricane Matthew, The National Stroke Association rescheduled the Fort Lauderdale Comeback Trail 5K walk/run at Huizenga Plaza to this month. For the new date, call 720-726-5441 or visit https://donate.stroke.org/fort-lauderdale/events/2016-comeback-trail-fort-lauderdale-fl/e67988.
---