Twenty-seven years old is late for someone to become a jockey. But Patra Jean didn't think it was too old to live her dream, which she did. Despite the late start, she finished her apprenticeship quickly and was in full gear. "You could say I was self-accomplished," she said.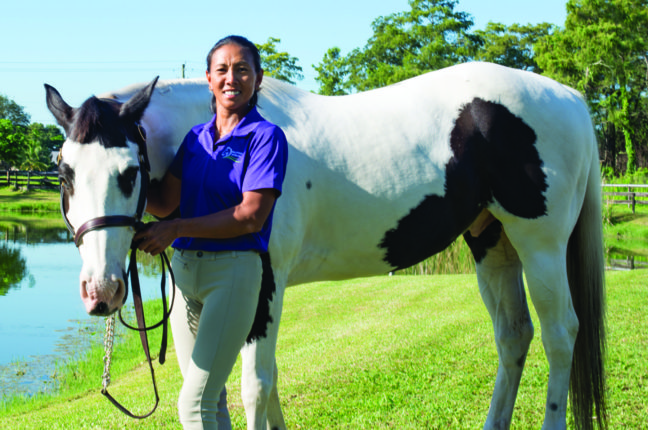 For a couple of years beginning in 2000, the 5'1" 100 pound jockey donned her silks to compete in more than 500 races, and bring home 54 winners.
Most of Patra's racing was at Calder Race Course in Miami Gardens, but she also rode at Gulfstream Park in Hallandale Beach, Hialeah Park in Hialeah, and in a track event in Jamaica. She rode for different owners and trainers, sometimes getting as many as five mounts a day.
Big-time horse racing has its dangers, and Patra knew them well. She was trampled in a race when her horse's hoof clipped the heels of the horse in front of her. She went down, and was run over by the horse that was racing behind her. Patra was rushed to the hospital where she learned, fortunately, that she had no serious injuries beyond a collection of bruises. Patra learned something from her experience that day: "If I got hurt, it wouldn't keep from racing," she said.
As a child in Hialeah, Patra's first experience with horses was in preschool when a babysitter's husband took her for pony rides at Hialeah Park. She was hooked immediately and knew horses would be part of her life, not just riding them but caring for them.
Today, Patra and her husband, Rich Fitzgerald, own and operate Millpond Stables on Vinkemulder Road in Coconut Creek. They have five horses of their own, and board a number of others. She also provides riding lessons on a regular basis.
There are several long days in a business that requires never-ending work. Some days find her mucking out stalls, filling them with hay, tending to the horses' water, feed, and making sure they get medical care when needed. Her horses need attention all day, every day, early mornings, and late nights.
"It's not a job," Petra said, "You have to love it. The horses don't have a voice. They can't speak for themselves. You have to have an eye to know when they're hurting, or need care. That's why I'm here. That's what it means to have horses in your blood."